Thanks to our supporters, the Coastal Land Trust has saved some pretty remarkable places over the past 25 years. Unique places like Springer's Point and Masonboro Island; dozens of public parks and nature preserves like the Latham-Whitehurst Nature Park in Craven County and the Stanley Rehder Carnivorous Plant Garden in Wilmington; hundreds of miles of land along rivers like the Neuse, Cape Fear, and Meherrin; and tens of thousands of acres of forestland and family farms.  This year – with your help – 1,234 acres have been saved!
But wait until you see what's coming next!  We're currently working on three projects that will save more than 9,000 acres!  We're moving toward larger, more ambitious projects that will preserve more waterways, protect more forests and farms, and open additional places for you to enjoy.  Your donation today will help make it happen.
Recently, we created a list of the Coastal Land Trust's top conservation priorities – the top 40 places that are the most threatened and most available for protection. The list identifies wild and wonderful waterways and lands that will connect and expand existing conservation space. It's an extensive list of places with great conservation benefits that need to be saved now before they're gone forever.
Our priority list changes whenever land is sold, developed, or, best of all, saved. So far you've helped save two places on the list – but three others have been lost.  Your year-end gift will help protect more places like these!
Salmon Creek Natural Area (Site X)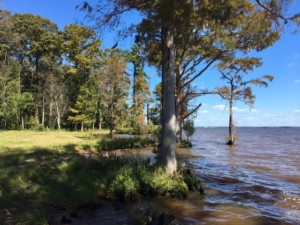 This fall we saved more than 1,000 acres featuring 3.5 miles along Salmon Creek in Bertie County that will become a State Natural Area.  This is perhaps the most ambitious and exciting project in the Coastal Land Trust's history!
This land, across the Chowan River from Edenton, is an amazing place which may hold the key to one of the greatest mysteries in United States history. In addition to protecting wildlife habitat and water quality of the creek, this land is brimming with historical significance. Once the homestead of colonial Governor Thomas Pollock, archeologists have found clues in one area, dubbed "Site X," that may be key to solving the mystery of the Lost Colony. Among the many Algonquian settlements unearthed here, pre-colonial English pottery shards were found that indicate settlers may have made their way to this spot after leaving Roanoke Island.
Salter's Creek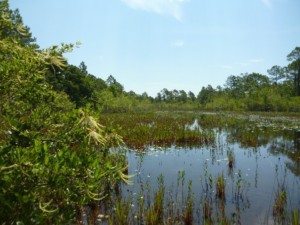 In Carteret County, the Coastal Land Trust is working to save more than 5,400 acres adjacent to the Cedar Island National Wildlife Refuge. There is a little bit of everything that makes our coast so special: majestic longleaf pines, unspoiled marshes, and gnarled maritime forests. It is an undisturbed playground for wildlife and a haven for waterfowl and rare birds such as the black rail. This project will protect more than 13 miles of shoreline and connect with other saved lands to create a protected area of more than 20,000 acres!
The Waccamaw River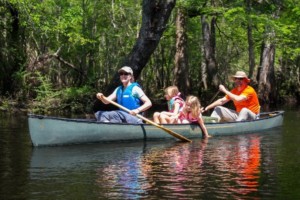 Many scientists believe the Waccamaw River is one of the Southeast's wildest, most unusual and most ecologically significant rivers, hosting a treasure trove of rare native fish and mollusks, which is why it ranks as a priority for conservation. Communities that border the Waccamaw River in North Carolina recognize the river as an important resource to their region, contributing to the area's quality of life, and as a local economic driver offering opportunities for outdoor recreation, tourism and education.
Since 2014 we protected almost 1,600 acres along the river, including 200 acres that we gave to NC State Parks to expand Lake Waccamaw State Park earlier this year. Within the next year, we hope to save twice as much land along the river to create additional game lands in Columbus County.
The mission of the Coastal Land Trust is about so much more than keeping land from development, the restoration of forests, or the creation of parks and pollinator gardens. It's about working together to enhance the quality of life for generations to come.
When you make your donation today, I hope you'll add a little extra to help save more of North Carolina's coast. Protecting nature is important for not just for wildlife, but ALL life – for you now, and for the future.
Sincerely,
Camilla M. Herlevich
Executive Director